DESIGNER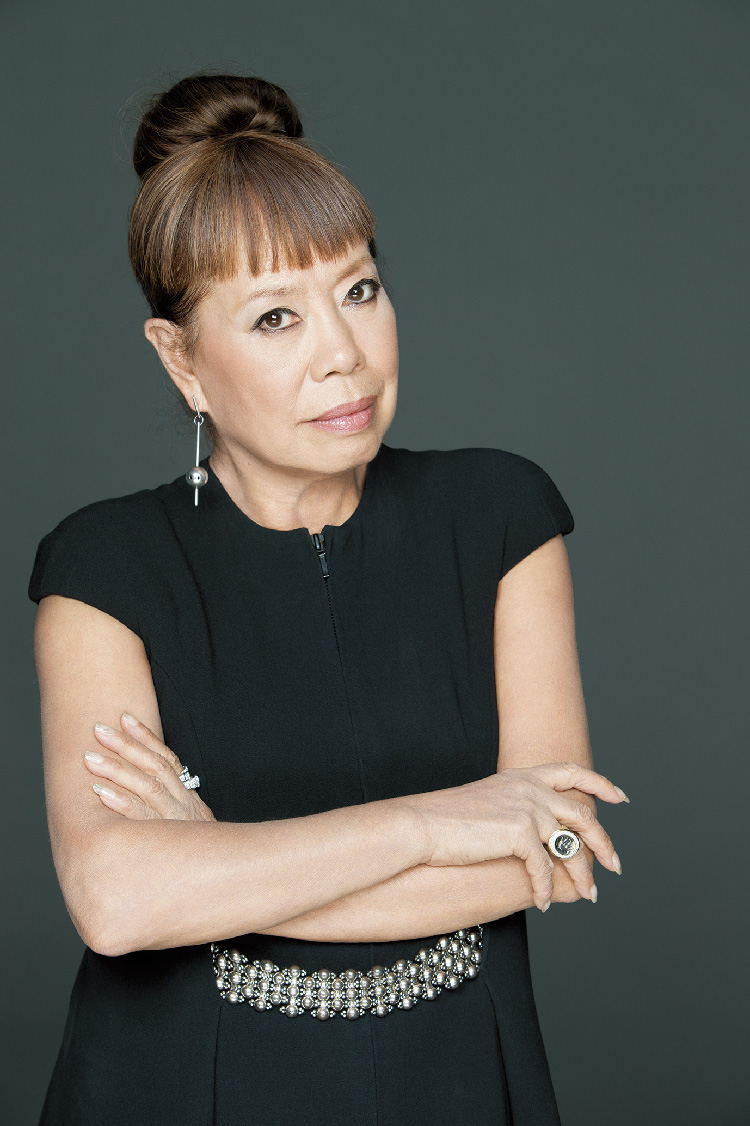 HIROKO KOSHINO
Hiroko Koshino is the founder and inspirational core of women's ready to wear clothing.
Being a top fashion designer for over 60 years, the designer says, "people in the fashion world always look ahead, and I would like to be an unpretentious fashion designer, expressing what I feel from the heart."
Her creative activity filled with enduring energy continues on a global scale, freely crossing over between fashion, lifestyle and art.

HISTORY
PDF DOWNLOAD
1937

・Born in Kishiwada City, Osaka Prefecture, Japan.

1957

・Won Nippon Designers Club's best designer award, while studying at the Bunka Fashion College, Tokyo.

1961

・Graduated from Bunka Fashion College.

・Became an exclusive designer for a youthful womenswear line at the Ginza Komatsu Store, now Ginza Komatsu.

1964

・Opened an haute couture atelier in Shinsaibashi, Osaka.

1977

・Joined the Top Designers 6 (TD6).

・Debuted collection in Tokyo and has been showcasing biannually ever since.

1978

・Became the first Japanese designer to join Alta Moda, Rome - the sensational international debut and the consequent impact of her collection instantly lead to a 30-page special feature in Italian Harper's Bazaar.

1982

・Established Hiroko Koshino International Inc. and was inaugurated as the President.

・Started women's ready-to-wear and licensing businesses.

・Debuted collection in Paris and showcased biannually.

1983

・Became a specialty member of Osaka 21st Century Association.

・As a result, the three sisters - Hiroko, Junko and Michiko Koshino - showcased a collection together as part of an Osaka 21st Century Association event.

1984

・Became the first Japanese designer to showcase a collection at the Jing Jiang Club in Shanghai, China.

1985

・Opened Hiroko Koshino branch office in Tokyo.

・Became a member of the Council of Fashion Designers, Tokyo (CFD), and the Kansai Association of Corporate Executives; as well as an honorary member of the Japan Designers Club Inc.

1987

・Presented the first Osaka Collection at My Dome Osaka, under the auspices of Osaka Prefecture, Osaka City and renowned business personalities of Osaka.

・Showcased collection in Seoul, South Korea.

1988

・Established Hiroko Koshino Co., Ltd. and was inaugurated as the President.

・Became the chairperson of Hiroko Koshino International Inc.

1989

・Became an executive committee member of the World Fashion Fair (WFF).

1990

・Organized and chaired C.O.D. (Collective of Osaka Designers).

1991

・Opened branch for Hiroko Koshino Co., Ltd. in Paris, France.

1993

・Discontinued showcasing in Paris after 10 consecutive years of joining the event.

1994

・Presented a collaborative event, Twilight Modes, in Prague, Czech Republic, with architect Borek Sipek and stage director Bambi Uden.

・Held 'Hiroko Koshino Works' exhibition showcasing her Japanese calligraphic works, at the Kintetsu Art Building in Osaka.

1995

・Lectured at the International Apparel Federation Convention in Washington, D.C., U.S.A., as a representative of Asian designers.

1996

・Designed the uniforms for the employees of the Osaka Imperial Hotel.

1997

・Debuted Hiroko Koshino Homme as part of the Osaka Collection, with the Governor and Mayor of Osaka having modelled for the same.

・Celebrated the 15th-year anniversary of the brand and the 40th-year of fashion design.

・Won the first honour of the 15th Mainichi Fashion Grand Prix.

・Published HK2001 - a book of her works within all capacities.

1998

・Organized a fashion event, Fashion Vision 21, with composer Shigeaki Saegusa at Chikatsu Asuka Museum.

2000

・Organized a collaborative event, Tactile Sensation, with interior designer Christian Biecher in Hamburg, Germany.

・Designed ballet costumes for the Grand Theatre de Geneve, for their first ever performance in Japan.

・Presented a collaborative fashion show with sisters Junko and Michiko, at their home town - Kishiwada City, Osaka.

2001

・Won the first honour of the Osaka Art Award 2001.

・'Semper' was built - an atelier, gallery and guest house in Ashiya City, Hyogo.

2002

・Held an exhibition, Honoka, Hirameki, meaning Faint, Afflatus, in Tokyo, Sapporo and Kokura, displaying her calligraphic works and paintings.

2003

・Exhibited paintings drawn using Chinese ink and select collection items, at the Hiroko Koshino Works exhibition, Kintetsu Art Building, Osaka.

2004

・Exhibited paintings, calligraphic works drawn using Chinese ink and select collection items, at the Hiroko Koshino Exhibition 2004, Ashiya City Museum of Art and History, Ashiya City, Hyogo.

2005

・Acted as a co-producer of the government-led 'Cool Biz' movement to inspire men's energy-saving fashions for the summer, using a multitude of resources.

2006

・Held collaborative exhibition, Kasane, meaning Layers, with renowned kimono-maker Genbe Kondaya and architect Kengo Kuma, at the Daimaru Museum, Tokyo. Kimonos and obi belts made of very fine silk were adorned by Hiroko using a brush and Chinese ink.

2007

・Commemorated her 50th-year anniversary as a fashion designer.

・Showcased collection at Anomalous Duality - a collaborative event held with British musician Michael Nyman in Shanghai - part of the official program for the 9th China Shanghai International Arts Festival.

2008

・Renamed company from Hiroko Koshino Design Office to what it is today - Hiroko Koshino Co., Ltd.

2009

・Presented collection in Paris, after 17 years since discontinuing the same.

・Presented collection at the Taipei arena with top Taiwanese designer Shiazy Chen, for the Taipei In Style event. She also became the first foreigner to receive the title of professor emeritus at Shih Chien University, Taiwan.

2010

・Presented a static show in Paris, which consequently received a lot of appraisal as the pieces were vividly clear.

・Invited to the International Costume Culture and Education Conference in Beijing, China, to speak, showcase and be appointed as professor emeritus for the Beijing Institute of Fashion Technology.

2011

・Exhibited Hiroko Koshino Creations 2011 - an art and fashion exhibition at the Musée des Arts Décoratifs, in Paris.

2012

・Exhibited the first personal exhibition as an artist, at the Galerie Hors-Champs in Paris.

・Designed the uniforms of the Japanese gymnasts contending at the London Olympics 2012.

・Opened KH Gallery Ginza, the first gallery to present Hiroko Koshino's artwork.

2013

・Held a solo art exhibition at the Sanyo Department Store, Himeji, Hyogo.

・Opened HK Gallery Ashiya, remodelling former residence to gallery dedicated solely to Hiroko Koshino's artwork.

・Designed the official international uniforms of the national gymnastics team.

・Held solo exhibitions at the Hanshin and Daimaru Shinsaibashi department store's galleries.

2014

・Exhibited art works at the well-established Galerie Nicolas Deman, in Paris.

・At Biwako Biennale, Hiroko Koshino's installation under a theme of "White World" along with some of the artist's paintings was put on exhibition.

・An exhibition consisting of Hiroko Koshino's recent paintings and past paintings was held at the Daimaru Kyoto Department Store in Kyoto.

2015

・Exhibited fashion and art works at the Awaji hanahaku 2015 event.

・Held a solo art exhibition at the Daimaru Shinsaibashi Department Store in Osaka.

2016

・Held an exhibition titled "Hiroko Koshino: Black & White̶Sumi Ink and Blank Space" at the AIR Gallery in Osaka.

・Awarded the Hyogo Prefecture Award for Distinguished Service.

・Became the chair of Hiroko Koshino Co., Ltd.

・Appointed as a member of a committee formed by the Bureau of Industrial and Labor Affairs of the Tokyo Metropolitan Government to explore ways of branding the city of Tokyo.

2017

・Served as a panelist on the Business of Fashion and Design panel at the 2017 Global Summit of Women.

・Published HIROKO KOSHINO ̶it is as it is̶ to commemorate the 60th year of her career as a designer.

2018

・Appointed as the honorary director of Kobe Fashion Museum.

・Held an exhibition titled "A Touch of Bauhaus" at White Box in New York.

2019

・Held a special fashion show titled "Hiroko Koshino Fashion Show GET YOUR STYLE!" In Kobe, with a hundred amateur models in a wide range of generations.

2021

・Held a special exhibition titled "HIROKO KOSHINO -Ex・Vision To the Future-" at Hyogo Prefectural Museum of Art.

2022

・The above "Ex・Vision" exhibition was awarded silver prize of Kukan Design Award 2022 and bronze prize of Japan Sign Design Award 2022.