The exhibition, Hiroko Koshino, the Echoes of Summer will be held at KH Gallery Ginza. The power of plants and water streams, which leaves us with a refreshing and pure sense, have repeatedly appeared as Koshino's themes. As evidenced by her decision to set her studio in a nature-rich environment, Koshino's perception of nature is one that is replete with affection. Living a slow life away from the hustle and bustle of urban life, surrounded by nature and gazing at the change of trees are elements vital to Koshino's creative endeavors. Koshino's adoration of nature is abundantly visible in her artworks.

This exhibition showcases a myriad of creations including a lotus-motif Sumi ink masterpiece from about a decade ago, and Koshino's latest work, a serene oil painting exploring the image of trees and water surfaces. The nature themed masterpieces bring about an elegant charm that is reminiscent of the purifying echoes of water.

A world portrayed mainly by Sumi ink and whitespace, black and white are also linked to the traditional oriental view of nature represented by ink paintings and the subtle, hidden but profound beauty, which have continued to inspire Koshino from her earliest works. Seemingly old, but new. The mythical paintings will invite you to a world of eternal beauty.

Serenity sets the background for the whispers of water and rustles of the woods. Take a moment to surround yourself with the cooling echoes which makes the heat of the outside world feel distant.
Monday, July 25 – Wednesday, August 24, 2016
10:30 am – 7:00 pm
Gallery closed every Sunday
Gallery closed for summer vacation from Saturday, August 6 to Sunday, August 14.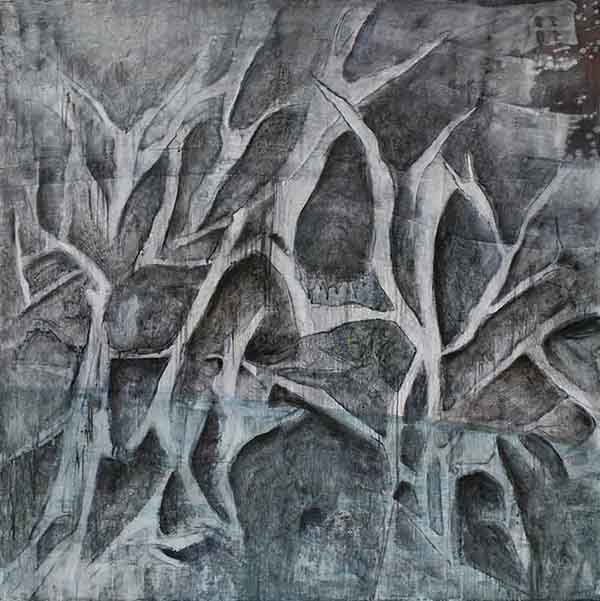 《WORK #1166》120cm×120cm 2016